For Booking information call 321-945-7500 or send MagiClown an e-mail.
Bonzo the MagiClown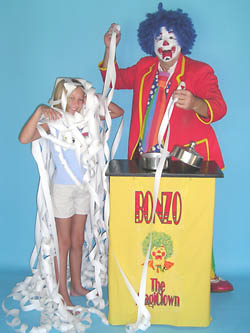 Roger L. Reid has been performing as Bonzo the MagiClown for over 25 years!
As Bonzo the MagiClown Mr. Reid performs a number of different "shows":
Bonzo performs a one hour "party show" for children, which includes magic, juggling, comedy, balloons and lots of audience participation. Most of the children at the party will be in the show. Bonzo dresses some of the participants in wild hats or costumes for their part in the show. At the end of the show each child receives a Bonzo poster and a balloon Sculpture! And of course Bonzo makes a "big deal" out of the birthday child!

Bonzo performs a "special" show for Nursery Schools and younger children called "Clown Metamorphosis". He begins in his "street clothes" and explains that he has two names, Roger L. Reid and Bonzo the MagiClown. He then procedes to put on his make-up and costume while giving a short talk on the "History of Clowning", illustrated by pictures and figurines. This "metamorphosis" or change, directly in front of the children, usually helps them avoid becoming "scared" of the clown. Then Bonzo performs his comedy magic show.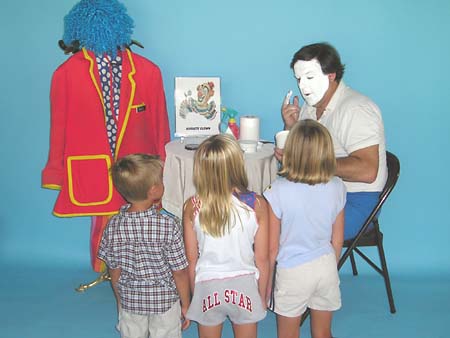 Bonzo does "Walk-Arounds" at Parades, Fairs, Picnics, Block Parties, Carnivals, Flea Markets, Bar-B-Que's, Trade Shows, Corporate Events, Grand Openings, etc. A "Walk-Around" includes "Meet and Greet", Close-up Magic, Balloon Sculptures, Comedy Juggling, Sight Gags, Comedy Props, etc.

Bonzo can also provide all the entertainment for a picnic. First Bonzo does his one hour magic show for children and adults alike. He then plays games and relay races with everyone, keeping them occupied for up to a total of 3 hours. Bonzo provides prizes for all the participants, not just the winners.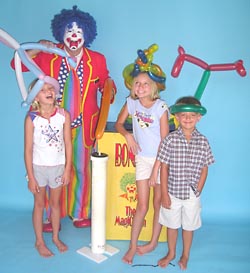 Bonzo arrives in full clown regalia as seen in the Circus, 19" long, red and white wing tip shoes, full white face make-up and brightly colored costume. The magic he performs is customized for the event, age group and type of audience he is performing for. When Bonzo performs, flowers grow, silk handkerchiefs change color, animals appear, balloons "pop", juggling balls fly through the air and everyone has a great time! The children laugh and scream at his antics and remember him for years to come!
Mr. Reid also performs as two other characters, Foo Ling Yu – Mysterious Visitor from the Orient, and Lester the Jester. Foo Ling Yu does a comedy magic act as a wild and crazy Oriental Wizard. He performs in authentic Oriental costumes doing magic from the Far East. Lester the Jester is a "court jester" character that fits with Mardi Gras and Renaissance Fair themes and the like. He juggles (poorly) does magic (poorly) and generally does everything "in jest."
Roger L. Reid is a founding member of "The Jersey Comics" Clown Alley in Freehold, New Jersey. He is also a member of Central Florida World Clown Alley #158 and The Long Island Klown Enthusiasts. He has participated in the "Clownfest" convention in Asbury Park and Seaside Heights, NJ for the past 21 years, where he has won "Top Clown" and "Top Magical Clown" Honors! He has trained, at conventions, lectures and alley meetings under such notable clowns as Leon "Buttons" McBride, Jackie LeClaire, Vincent "Vappo" Pagliano, Joe Barney, Marcella "Mama Clown" Murad, Avner "The Eccentric" Eisenberg, Ali Bongo, Bev "Rebo" Bergeron, Marilyn "Marabelle" Caruso and hundreds of other clowns and magicians over 45 years.
Bonzo the MagiClown has been asked to march in the Macy's Thanksgiving Day Parade, the New York City St. Patricks Day Parade and the Philadelphia Mummers New Years Day Parade!

"Everyone enjoyed your show! The best thing about it
is you are as entertaining for the parents as you are for
the children. Great job!" Mrs. J.R.

For Booking information call 321-945-7500 or send MagiClown an e-mail.
This site maintained by Magic-Ian