For Booking information call 321-945-7500 or send MagiClown an e-mail.
Cigam the Magician

Roger L. Reid has been a performing magician for over 40 years.
As Cigam the Magician he performs:
Close-up "sleight of hand" magic at intimate gatherings or table to table at large affairs. Cigam performs with cards, coins, paper money, silk handkerchiefs, shoe laces, sponge balls, balloons, gag props, puppets and spectators' personal effects.
Comedy magic for parties and always includes lots of audience participation. Most of the children at the party will be in the show. Cigam dresses many of his "assistants" in funny costumes or hats and does comedy routines based on "classic" magical effects. At the end of the show, each child receives a "Magicians Assistant Certificate".
A Stage Show for elementary school children that can be tied in to educational themes. Again comedy and audience participation are a hallmark of the show. Cigam will make a "mistake" and the children have to say the magic word to get him out of trouble. The children always remember his Magic Word!
Performances by Cigam offer a unique and innovative combination of visual magic, comedy and audience participation. And…by special arrangement… larger illusions such as "The Doll House", "The Dagger Chest" and/or "The Floating Lady" may be included in the show! The magic presented is always "customized" to fit the audience, event and age group.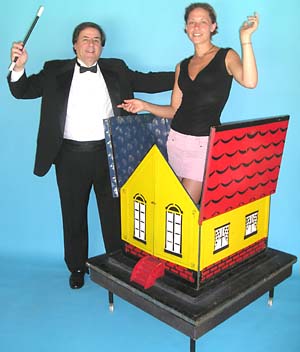 Roger L. Reid is a Member of the International Brotherhood of Magicians (Order of Merlin) and the Society of American Magicians. He is the founder and past president of I.B.M. Ring #244 and a member of Rings #170 and #258.

Roger is also the Inventor and Marketer of more than 20 magical effects, including You Must Have Been Drinking!, Cigams Flash Coin Vanish, Follow the Oddball, Lightning Loops (with David Ginn), Hanky Panky, Liqui-Van Glass, New Improved Milk Pitcher, The 34 Trick, Color Blind, and more, which can be found for sale exclusively on this web site. Click on the MAGIC SHOP icon above to view those items.
Cigam has performed for Birthday Parties, Bar and Bat Mitzvah's, Banquets, Communions, Trade Shows, Fund Raisers, Holiday Parties, Resorts, Schools, Colleges and Universities, Night Clubs, Conventions, Carnivals, Fairs, Anniversary Parties, Libraries, Camps, Police and Fire Departments, Retirement Communities, and Charitable Organizations such as Habitat for Humanity, the Cancer Society, United Cerebral Palsy, etc.

"You did a wonderful job entertaining at our showroom
opening! The humor, magic and persona were just right!
Sophisticated but easy and smooth." Mr. S.M.

For Booking information call 321-945-7500 or send MagiClown an e-mail.
This site maintained by Magic-Ian