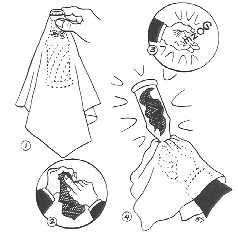 Originally produced in 1974, off the market for about 10 years. 4 stars in GENII magazine. Created and manufactured by the seller, Magic-Ian. .New!!!
You get: 9" silk and acetate scarf Large 18" 100% pure silk heavy weight foulard a 4" tall miniature Pepsi bottle with cap plus the most original easy to use gimmick and method EVER!! Ideal for walkaround, restaurant magic, resets in seconds, spectator's are baffled use your own "vanish method" and silk WILL appear in the empty bottle!!!

Pepsilkola:
A miniature soda bottle is handed to a spectator. The magician covers the bottle with a cloth WHILE the spectator holds the bottle. Then, a small scarf is vanished from the magician's hand. The cloth is removed from covering the bottle and the vanished scarf has magically appeared inside the bottle. All may be inspected. magic-Ian
YOUR COST ONLY $19.95
Review carte
CoolPage!
MoreInfo!
S & H $4.95 priority.